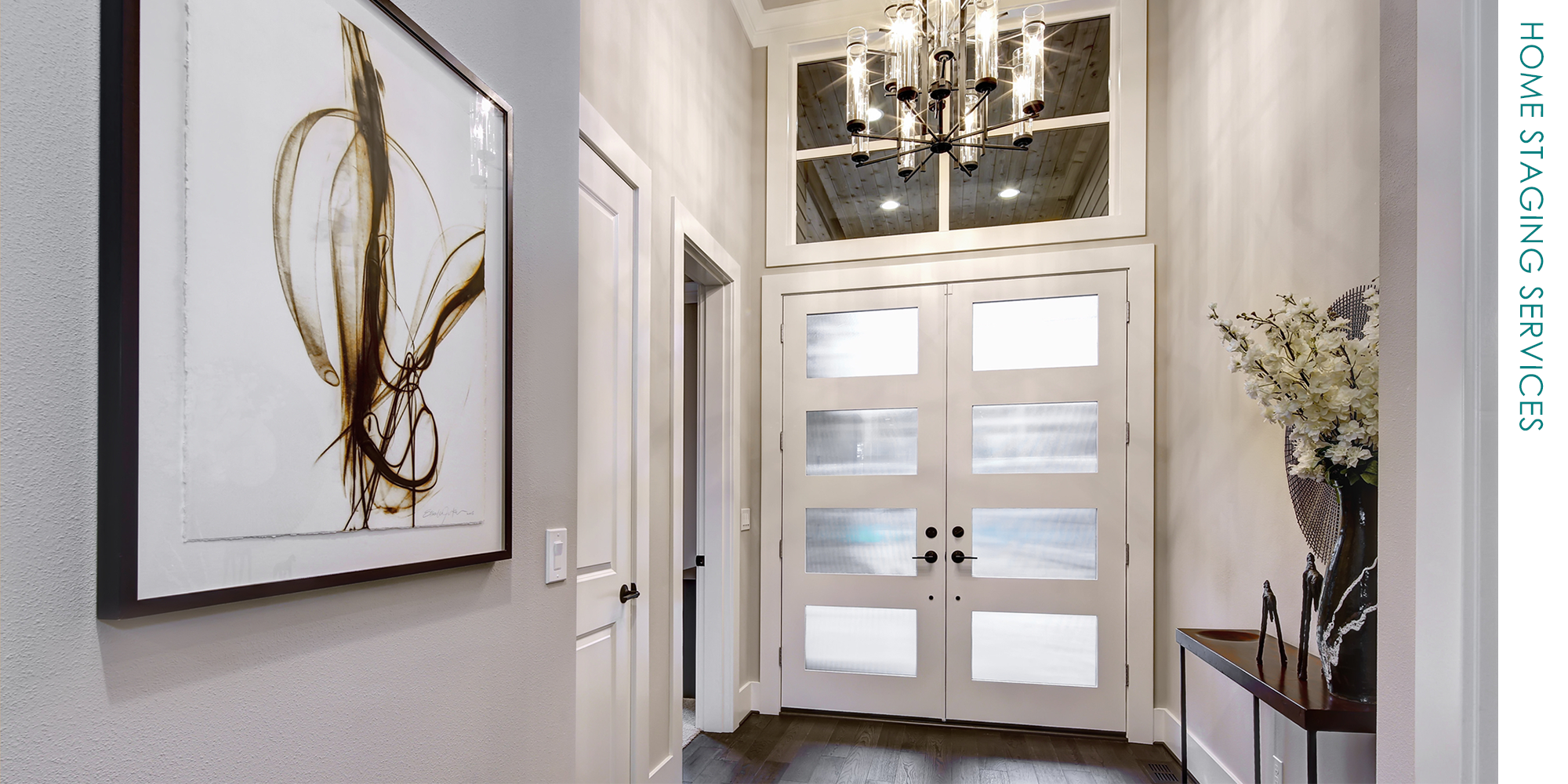 Walk & Talk CONSULT
Occupied STAGING
* VACANT STAGING NOT OFFERED

STAGING
Walk & Talk Consult
This walk-through consultation is conducted on my iPhone, with my new state of the art staging app. This allows more focus and attention with the seller and in turn, allows me to expedite a more refined and thorough report. Cosmetic repairs and styling tips for the interior and exterior of your home will be listed. Images of furnishing recommendations are also captured and posted along with the retail source. Upon completion, the report is instantly emailed to both seller and agent for review. From there, you can implement my suggestions and manage the project on your own. For added convenience, a contractor and trade resource list is also provided.
State of the Art Staging!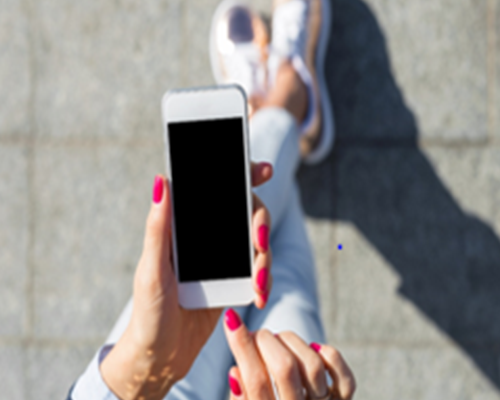 STAGING
Full Service
Move ○ Merge ○ Downsize ○ Relocate ○ New Home  
Your entire home will be transformed, staged and show ready! You're existing furniture and accessories are repositioned to achieve visual impact, balance and flow. To finish the project, I'll shop for additional accessories and furnishings if needed.
I'll have your home show ready in no time!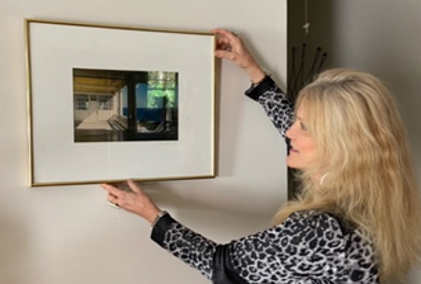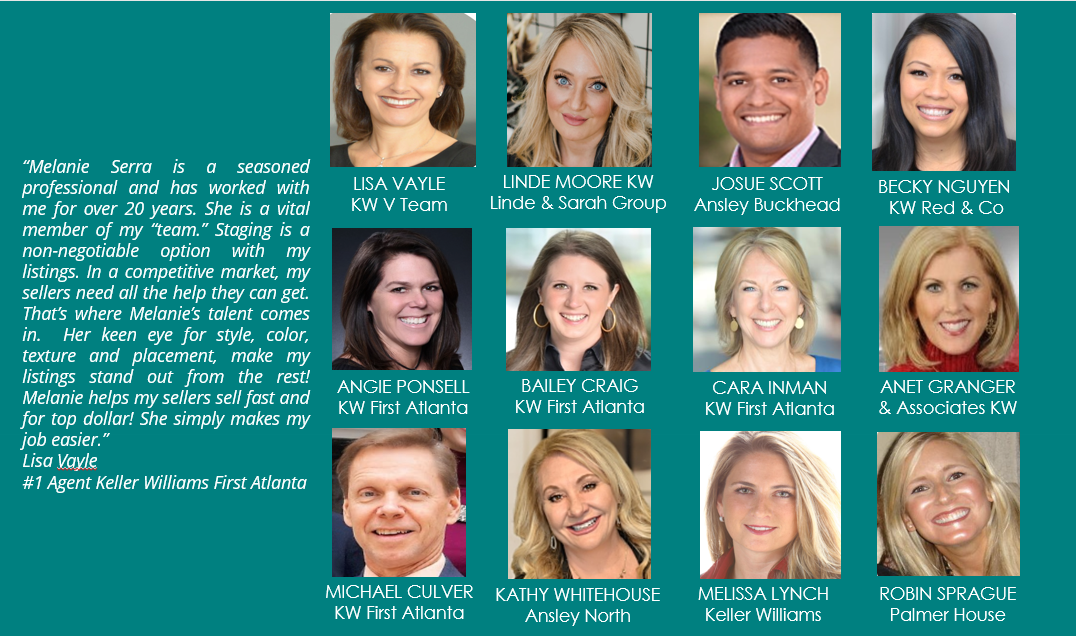 TOGETHER
EVERYONE
ACHIEVES
MORE
Melanie's Realtor TEAMS
I'm honored to work with some of the most talented, hardworking top producing real estate agents in the Atlanta market. We work exceptionally well together with the same goal in mind; to make each home aesthetically more appealing, attract the highest number of potential buyers, and to sell the listing fast and for TOP DOLLAR!!!
"I'm blessed to work with the BEST!"
Thank you for making my seller extra money and making my job easy!
Melanie, you staged a home in Sandy Springs that had not been updated in 15 years. The sellers did absolutely everything you requested of them and we came on the market at 825K . Since it was staged and looked "fresh" and "clean", we received 6 offers, 4 were cash, everyone over list price and we ended up at 50,000 over list price. There is no way that was ever ever going to happen with an unrenovated home with essentially no backyard without your staging expertise. Thank you for making my seller extra money and making my job easy!!! 
Lisa Vayle – #1 Agent Keller Williams First Atlanta
I just love the transformation…
Thank you again for the great job you did staging the Conley's home.  Below is an excerpt from a message she sent me yesterday: Lucretia, thank you so much for having Melanie Serra come and stage our home. Wow... I just love the transformation and the new look! Don is very happy with the changes as well. I can see now how staging makes such a big difference. Melanie was delightful and did such a great job freshening up our home using our own stuff.
L. Farley - Atlanta Communities Real Estate Brokerage, Atlanta, GA
We had 3 offers in within 8 hours…
Thank you for your great work and prompt oversight. It looks like your staging decisions made the difference. We had 3 offers in within 8 hours of our house going on the market! Great work! We are very grateful!
David and Amy Oakland - Dunwoody GA
Melanie…You ROCK!!!!
Melanie…You ROCK!!!! You are so amazing! I can't believe how great my clients house looks. I am just blown away!!! I love how you flipped the living room and dining room, rearranged all the furniture, and pulled a beautiful motif together. It looks amazing. Your awesome….I can't wait to use you again. I loved it! Thanks again!
Beth Hazy - Real Estate Agent Keller William
She also makes my job easier…
Melanie Serra, at Interior Revivals, has become vital to my "team". Staging is a non-negotiable with my listings. With all the competition out there as well as buyers thinking that houses should look like an episode of HGTV, my sellers need all the help they can get. When Melanie stages, the house looks the best it can be and sells faster and for more money than if I did not stage the house. Melanie helps not only my sellers make more money faster but she also makes my job easier.
Lisa Vayle – #1 Agent Keller Williams First Atlanta
She surpassed our expectations…
Melanie Serra has preformed at the highest level concerning professional interior design services, creating innovative solutions and adhering to budget guidelines. She surpassed our expectations concerning our budget guidelines by saving the developer approximately $6,000.00. After 2.5 years of aggressively marketing our 3 bedroom condominiums ($430K) with no results, Melanie Serra's vision and talent has now enabled our community to effectively market our 3 bedroom condominiums creating 3 new sales in less than 30 days after model completion!
Kevin White - Engel & Volker's Atlanta
Professional, pleasant, energetic…
As a Luxury Home Real Estate Agent, staging is a top priority for me as well as for my clients. Melanie has worked with me for several years and has staged many homes for me. I immediately knew she would be someone I could trust to stage all of my client's homes before listing them for sale. Melanie's talent and professionalism has been a key factor in the speed at which my listings sell. Melanie has decluttered rooms, rearranged furniture, staged vacant homes and revitalized less than exciting spaces using what the client already had in creative and innovative ways! I have found Melanie to be professional, pleasant, energetic, always on time, and hardworking with an inspired knowledge of just what today's buyer and seller is looking for!
Robbye Noonan – Keller Williams Realty First Atlanta