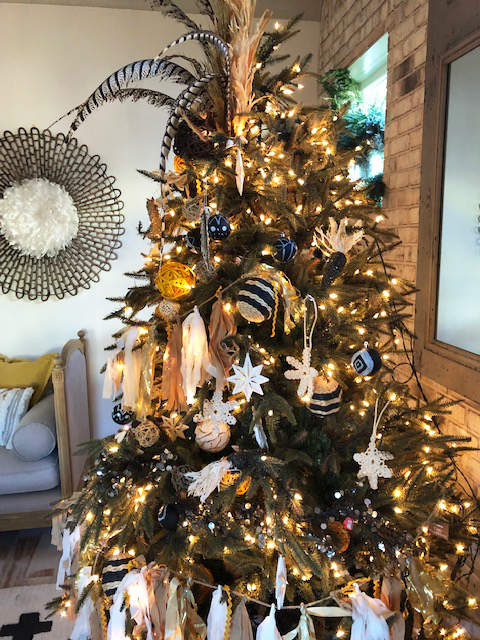 Tribal Theme Decorating for Christmas
I was honored to be chosen as one of eight designers for this year's 2nd Annual "Holiday Home Tour," hosted by the Roswell Woman's Club. Five beautiful homes, in the heart of Historic Roswell, were featured and decorated with holiday décor.
Last year my design featured Blush for the Holidays, but this year I decided to unleash my creativity and come up with a holiday design that went against everything red and green.
The home was built by Brightwater Homes and reflective of farmhouse style. It featured interesting architectural characteristics along with an array of eclectic furnishings representative of the homeowner's extensive travels.  The bohemian style was the perfect backdrop to blend the homeowner's exotic collections with elements of tribal décor to create a spiritual oasis. Using warm neutrals and lots of texture, I was able to pull off this unique Christmas theme.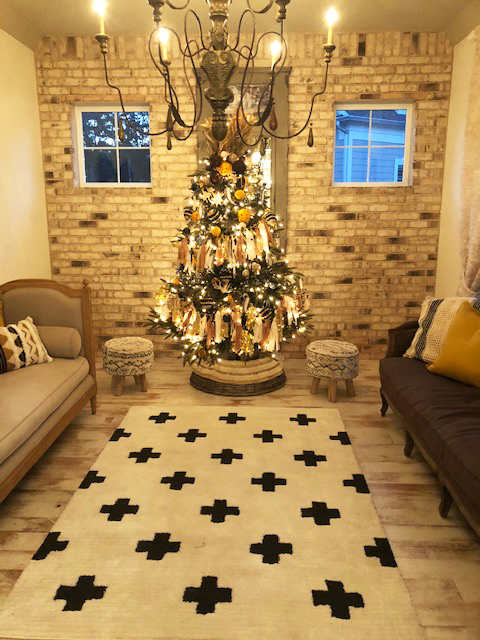 I selected the formal living area because of its textural fixed elements.
The cream and black brick wall, accentuated with square symmetrical widows was a perfect focal point for a Christmas tree. The whitewashed floors were light and airy and reminiscent of a rustic Peruvian adobe.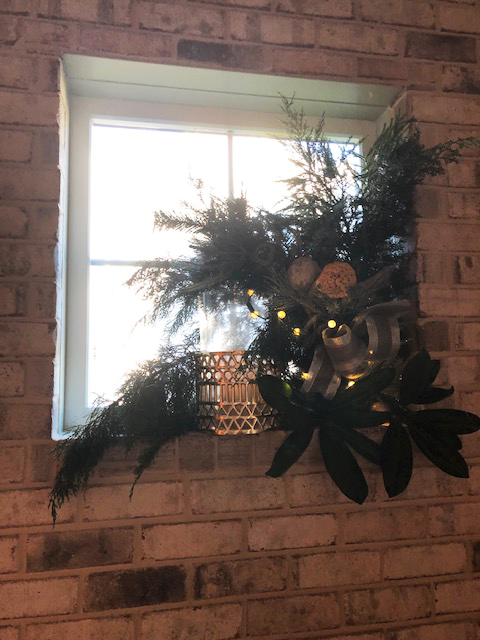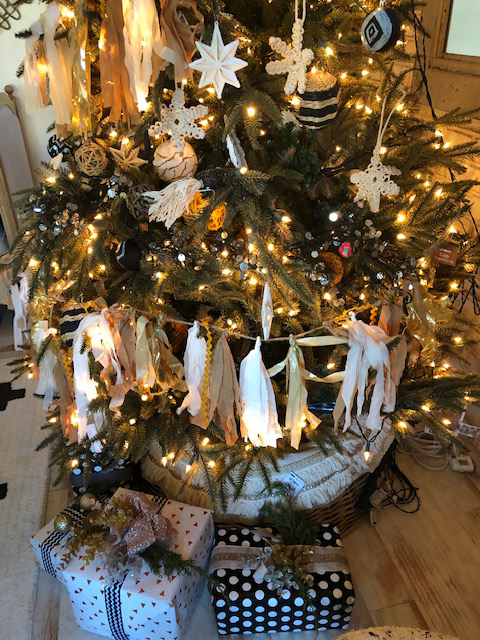 The Tribal Tibetan theme I had envisioned in my head would blend together black, white and marigold along with natural textures such as feathers, natural jute, rattan, and greenery.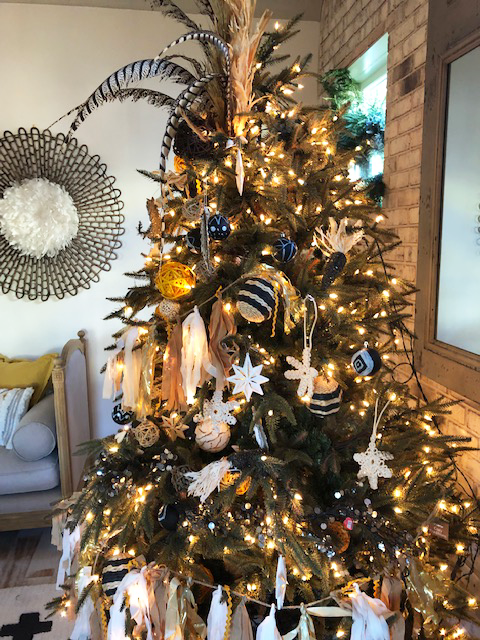 When I started to shop for decorations, I looked for specific ornaments that would be somewhat global. I wanted to evoke visions of exotic places that would push a visitor's imagination to faraway destinations. I mixed in tribal patterns and took my inspiration from the homeowners existing draperies which were constructed of a feather-like fabric.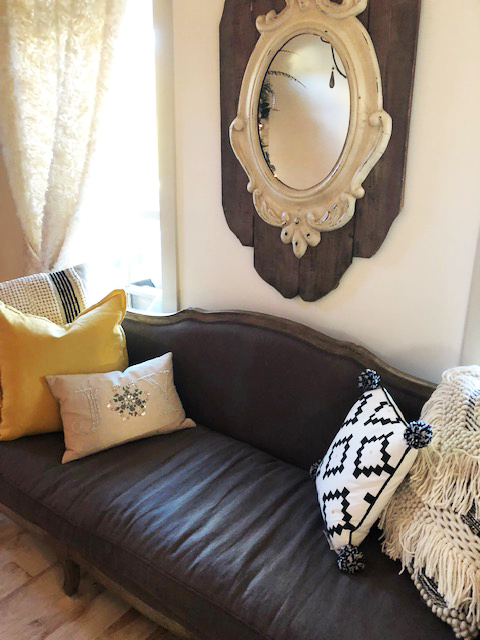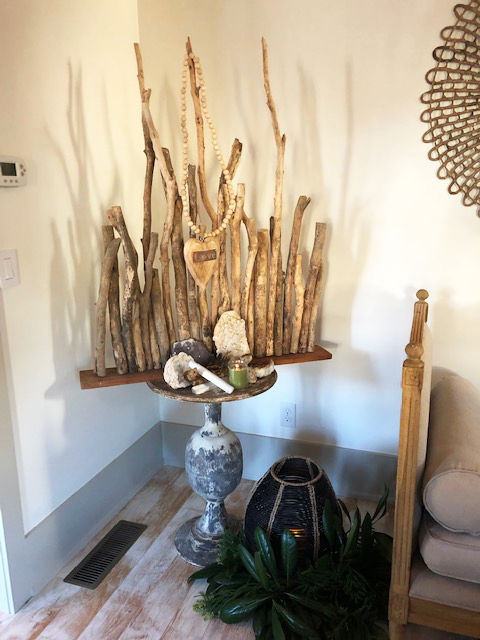 Highlighting a spiritual theme, I created an alter out of a wood sculpture, using gems, prayer beads, and energy stones.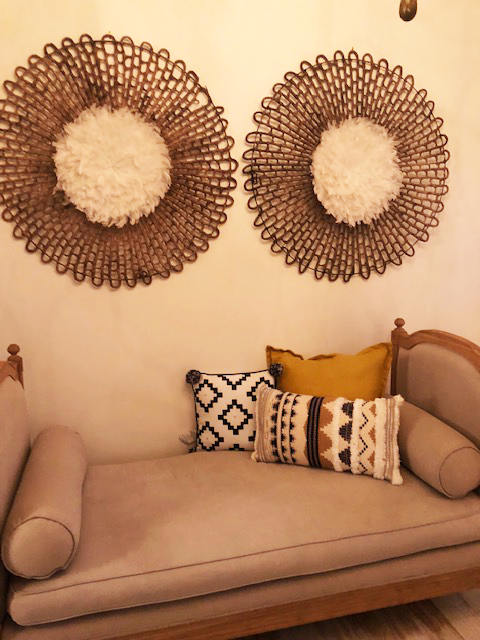 Using rattan circular wall hangings, I added JuJu hats made from feathers that are traditional ceremonial headdress used by tribal chiefs, royal families and dignitaries.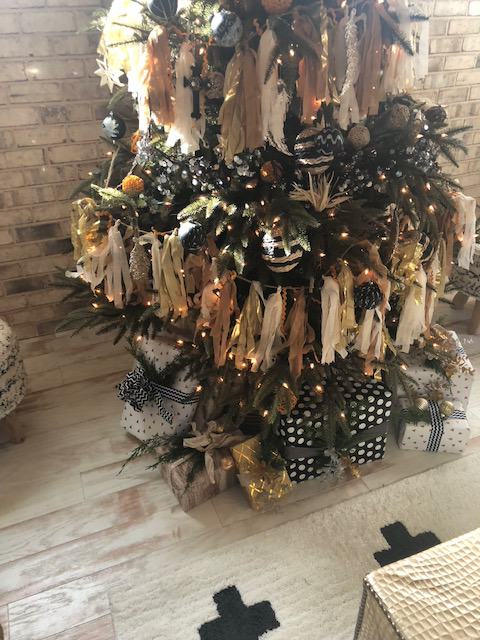 A tribal black and white rug, along with gift boxes wrapped in geometric paper added the finishing touches to the room.
Not the typical holiday choices, but the patrons of the Holiday Home Tour come to experience designs that push the boundaries and go beyond standard holiday decor.
Call it Tribal, Bohemian, Native Chic or even Ethnic Décor it's all HOT!
There has been a rise in this modern tribal trend because it works so well with other design elements.  From Scandinavian to vintage eclectic, it is the perfect way to combine ethnic design with nature-inspired décor.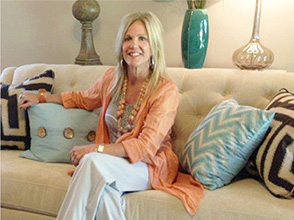 Melanie Serra, Interior Decorator, Certified Color, Redesign and Staging Instructor
Award-winning decorator and stylist Melanie Serra has been reviving interiors for over 17 years and has worked with clients in Dallas, Philadelphia, and Atlanta. Melanie Serra's approach to interior design is fresh and innovative transforming residential and commercial interiors from Now to WOW!
Melanie Serra Interiors - 770-714-3430