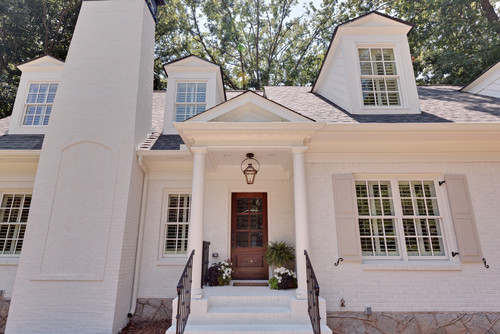 If you're one of those trendsetters who love to keep your home showcasing the latest design trends, you'll love our list of the most popular home exterior design trends for 2017.
This year's highlights are elegant, stylish and the perfect way to let your personal style shine through while improving your home's curb appeal and increasing its market value.
While many of our clients are most comfortable applying the latest and most fashionable colors, materials, and styles to the inside of their homes, this year we're challenging them to explore the many options to enhance the outside of their home as well.
Let's explore what's hot this year…
Painted Brick
Are you tired of your house blending in with all the other brick homes in your neighborhood? Overtime brick can look dated and tired and in need of a facelift. An affordable way to give your home an updated and cleaner look is to add character with a fresh coat of paint.
Dark Windows & Gutters
Over the years light trim and gutters have been the norm, but lately, we see darker accent colors add personality and charm to a home. Darker trim around windows will give them a framed effect which looks like pictures hanging on a wall. Some of our favorite colors for 2017 include black, dark blues, red and browns.
Timber Portico Entrance
What is portico? It's a fancy word that means covered porch, and it's taking the exterior design world by storm. If you're looking for a beautiful way to replace those ugly concrete steps and boost your home's curb appeal try adding a small porch protected by a column-supported roof.
Faux Columns
Stone or brick wrapped columns are an ideal way to add sophisticated style to the exterior of your home. Some of the most recognizable characteristics of a home are the elements that support it like columns and posts. Take an ordinary post and turn it into a beautiful stone column and see how one small change can transform the entire look and feel of a home.
Wood? No, it's Vinyl!
Vinyl siding companies are going out of their way to produce a broad range of realistic looking clapboard panels, half-rounded shingles, and cedar shingles. The results are low-maintenance, durable and absolutely beautiful.
Reclaimed Wood
The HGTV show Fixer Upper has made traditional wood shakes, shingles and shiplap a must have for any homeowner looking to update the exterior of their home. These simple reclaimed wood boards and modern farmhouse style has made shiplap very popular. Using wood siding in place of vinyl siding can add a rustic look to your home. Some people say that wood siding isn't as effective at keeping the elements lock out and the heat locked in your home. However with the right wood treatment, wood sidings can be even more effective than their vinyl counterparts! Check out the Siding Contractor Atlanta for infomation on how to get yours!
Board and Batten Shutters
These simple shutters are adding style to window opening from Stucco Farmhouses to Colonials across the country. Originally these shutters were a cheap way to add shutters to a barn and used as a decorative piece on cottage styled homes. But recently their timeless beauty is becoming a charming addition to any home.
And don't forget your entertaining areas…
The rustic, old-fashioned look is becoming more popular and is replacing the clean, modern lines of contemporary design …even in our outside entertaining areas. If you think porch swings, fire pits and countryside gardens you'll be your neighborhood's favorite hangout spot.
Outdoor Fire Pits
There is no better way to enjoy a chilly evening than sitting around the warm glow of a fire pit. They make the perfect focal point to any outdoor space and are a wonderful way to make a gathering come alive.
Rock Gardens
With outdoor living and neighborhood gatherings becoming more and more popular a rock garden made up of organic and natural materials is sure to transform your yard into a relaxing oasis. An example of this are these Outdoor Living Walls by phs Greenleaf, which incorporate nature onto the walls of your home!
Curb appeal is becoming huge …there's no way around it.
The exterior of your home should highlight your personality and compliment your natural surroundings. Consider a few of these design trends when updating your home and make your home a beautiful place your family will love to come back to.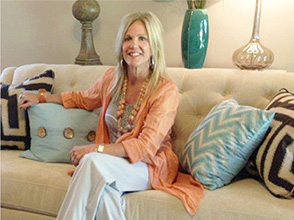 Melanie Serra, Interior Decorator, Certified Color, Redesign and Staging Instructor
Award-winning decorator and stylist Melanie Serra has been reviving interiors for over 17 years and has worked with clients in Dallas, Philadelphia, and Atlanta. Melanie Serra's approach to interior design is fresh and innovative transforming residential and commercial interiors from Now to WOW!
Melanie Serra Interiors - 770-714-3430