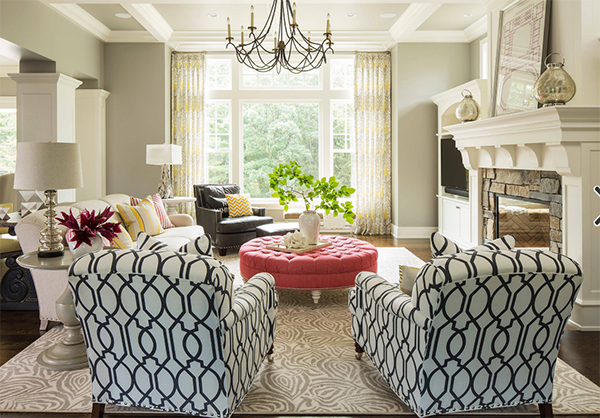 Design Trends for 2019
If you've been following along with my favorite Home Design Trends for 2019 Series you know I've already taken an in-depth look at the latest kitchen and bathroom trends. This month I'll complete the series by educating you on this year's hottest living room design trends. My hope is you'll find some ideas and inspiration to make your living room the talk of the town!
I often tell my clients that if they could only pick one room in the house to pour their heart and soul into, it should be the living room.
It's the one room that sets the tone for the rest of the house. If this is the year that your living room is getting a makeover, there are many new options.   Whether you've decided to go more modern or revert back to traditional, keep reading to learn what's new in living room style!
"I always put in one controversial item. It makes people talk." – Dorthy Draper
Spanish Style
For those who miss traditional décor…it's back with a vengeance! The trend started with designers adding Moroccan and Mexican paver tiles in kitchens and bathrooms. However, we are just at the forefront of this latest style trend.   When you think of a Spanish style living room, you may envision earthy tones, bright patterns, and Moroccan colors.  However, implementing a Spanish-inspired style also includes white plaster walls, linen upholstery and natural wood elements with touches of wrought iron. This style is a reproduction of old Hollywood and incorporates some modern elements as well. So, it's very easy to mix in some transitional pieces. In the picture above, the drum shades, lamps, and Moroccan style metal tables add just a hint of modern in this 2019 Spanish style living room.
Mix and Match it Up!

Designers are tired of the tried and true neutral palate, so they're kicking it up a notch!  Instead of playing it safe, they are mixing it up by incorporating various patterns and textures and adding pops of color. The key to pulling off this style is to start with a large-scaled colorful fabric. This is the jumping off point…the place you will begin to build your color and design scheme. Once this is established, the next step is to incorporate a second color with accessories.  Use a smaller scale pattern (like stripes or florals) in the pillows for a cohesive and balanced look.  The final step is to add a variety of textures like leather and linen. This creates depth and sophistication.  Remember everything does not have to match perfectly… that is what makes "mix and match" living rooms so hot this year!
Wood Accent Walls

When you think of wood walls, you may think of your grandparent's den with its outdated judges paneling. But this year wood walls are all the rage. It all began with shiplap when Joanna Gaines introduced us to the farmhouse trend. However, today wood paneled accent walls are showing up everywhere and transcending all decorating styles.  Designers are specifying all types of wood species in various patterns such as Chevron, brick, and houndstooth.  The natural element of wood is such a spectacular show stopper and is a great way to update your living room this year without breaking the budget.
Divide, Open and Beautify Your Space

The open floor plan in home construction and renovation is the new norm in home design.  Adding contemporary room dividers made of glass and steel is the ultimate compliment to this trend. These sleek and classic walls allow light to pass between the rooms while still providing some privacy and noise control. What a stylish and elegant contrast to an otherwise typical floor plan.  I think this trend is here to stay for a while and we will be seeing a lot more of these wonderful movable walls in home décor.
Go for the Bold and Unexpected

Interior design has come a long way from the white walls and the beige carpet of yesteryear. Today designers are going for bold statements that take a turn toward the darker, deeper and moodier shades of navy, black and jewel tones. If you're looking to change your living room décor this year, paint the room in a darker hue.   Step out of our comfort zone and paint the walls and trim the same color. When painting a room all one color, select an eggshell finish for the walls, and a semigloss finish for the trim. This will create a uniformed look while adding depth and sophistication.  For more drama, select a value or two lighter on the ceiling or just stay with white.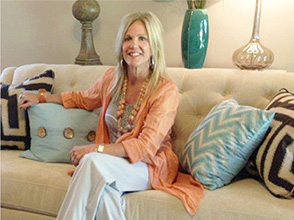 Melanie Serra, Interior Decorator, Certified Color, Redesign and Staging Instructor
Award-winning decorator and stylist Melanie Serra has been reviving interiors for over 17 years and has worked with clients in Dallas, Philadelphia, and Atlanta. Melanie Serra's approach to interior design is fresh and innovative transforming residential and commercial interiors from Now to WOW!
Melanie Serra Interiors - 770-714-3430