Photo by: Staging That Sells
It's that time of the year when we get to enjoy an array of colors as spring ushers in a new season. As the real estate market typically blossoms in March, now is the time to seriously think about how we can use color to sell a home.
When staging a home for sale, color is the key!
How we work color into a staged home can affect how potential buyers connect with a home. We wouldn't think it would matter, but emotions play a vital role in the home buying process, and that starts with color.  Color experts agree that colors have an impact on our feelings. Each color sends a psychological response to our brains. Some make you feel relaxed or energized, while others may even make you feel hungry.
Each homeowner is different, and we can never be sure what color will evoke an emotion. This is the reason we suggest starting with a neutral color palette. By using neutral colors, we can highlight the home's unique selling features, allowing potential buyers to visualize themselves living in a space. Think of it like we're enabling their imagination to work with a blank canvas that they can fill with their own color choices.
Walls and trim are the perfect places to neutralize color.
Shades of cream, beige, and white allow a home to feel bigger and brighter. Even if these colors seem a tad bit boring to you, remember we're trying to let the home buyer envision their own color palette.
Once we've neutralized the space, now we can add splashes of color throughout the home to add charm and character.
A great impression starts at the front door.
Show-stopping colors like red, green, yellow, and blue can make an impactful statement when done correctly. Using colors that attract attention and create a stunning first impression can often lure homebuyers in the front door. Not all bold shades work well with your home's exterior color palette or surrounding landscape, so it's best to consult with a color professional if you're unsure.
Homebuyers want to see some color.
Even though this may sound counter-intuitive to staying in a neutral color palette adding color in areas that highlight a home rather than overtake, it is just as important. It's all about moderation and can, in all regards, make a home feel more inviting.
We can even use color to make a room look more appealing. Blue typically makes a room feel more relaxing and is perfect to use in bedroom areas. Orange, on the other hand, can make a space feel energized, and red is powerful and eye-catching.
By inserting color through art and accessories, we can add subtle splashes of interest by taking advantage of using the natural walls as a backdrop. A beautiful vase of flowers can add a nice touch to a countertop or coffee table. Colorful pillows or a pretty bedspread are great for adding soft color touches throughout the home.
 
One important thing to remember is we're trying to highlight the home, not the décor, so use color sparingly.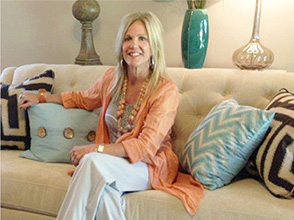 Melanie Serra, Interior Decorator, Certified Color, Redesign and Staging Instructor
Award-winning decorator and stylist Melanie Serra has been reviving interiors for over 17 years and has worked with clients in Dallas, Philadelphia, and Atlanta. Melanie Serra's approach to interior design is fresh and innovative transforming residential and commercial interiors from Now to WOW!
Melanie Serra Interiors - 770-714-3430