Wallpaper Trends on the Rise!
It's no wonder that the modern wallpaper trend is still going strong.  Wallpaper is a  simple and cost-effective update, and today's patterns are a far cry from the '80s florals and farm animal borders of the past. Gone are the days of hard to remove paper and gooey buckets of wallpaper paste. Today, wallpaper represents a union between timeless designs and beautiful artwork matched with new paper options. The design industry is embracing its nostalgia by standing true to the fact that "everything that is old becomes new again."
With the age of self-expression, wallpaper is becoming the perfect way to personalize a room. Its primary purpose is to breathe new life into a room while adding a touch of class and sophistication to the walls that paint sometimes can't offer. If nothing else wallpaper lets us add a little whimsy to our homes.
The five newest wallpaper trends:
Majestic  Murals
The love of a European village, New York City or the lowlands of South Carolina can be introduced in a room through scenic wallpaper murals. Like fine art, they create an accent wall from floor to ceiling to capture a mood, theme, or aspiration.
Modern Designs
The age of innovation is endless, and modern designs are popping up everywhere, including on wallpaper. Overscaled botanical prints and geometric patterns incorporate the modern architectural movement with touches of organic elements.
Prints & Whimsical Chintz
If flowered wallpaper reminds you of your grandmother's bedroom, look again. A new array of whimsical and Chintz patterns are hitting the design world like never before. Designers are pairing these traditional papers with modern furniture and fun accessories.
Add Texture
Wallpaper manufacturers have gotten innovated when it comes to paper designs. Adding texture to a wall has never been so simple. Two-dimensional designs and the use of grasscloths and faux suedes have taken wallpaper to a whole new level.
Add a Painting
Watercolor-inspired wallpaper continues to reign supreme with its over-blown patterns and designs. It's fresh and modern and becomes a work of art in a room.
Modern wallpapers are so diverse that you will be able to find a suitable option no matter what your style. Forget the wallpaper of your past and step out into the new fashion of bold and truly unique papers.
I can help you select the perfect style and pattern for any room in your home.
I have many resources, along with a fabulous wallpaper installer! If that accent wall or dining room mural is the next project on your list, contact me at [email protected] or call me at 770 714 3430.
Together we can make it happen!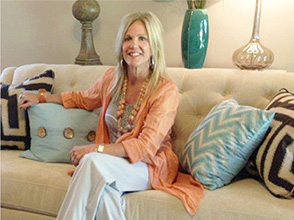 Melanie Serra, Interior Decorator, Certified Color, Redesign and Staging Instructor
Award-winning decorator and stylist Melanie Serra has been reviving interiors for over 17 years and has worked with clients in Dallas, Philadelphia, and Atlanta. Melanie Serra's approach to interior design is fresh and innovative transforming residential and commercial interiors from Now to WOW!
Melanie Serra Interiors - 770-714-3430