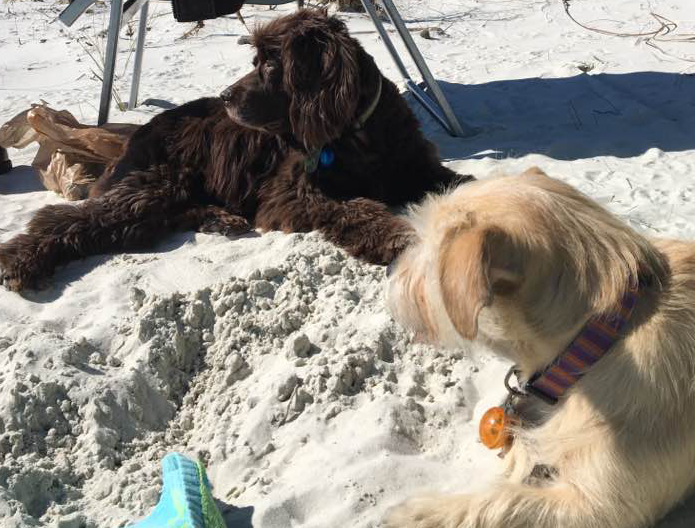 Pet friendly decorating can be beautiful!
I'd like you to meet Lance and Cooper! They are my confidants, my sidekicks, and my "we're so glad you're home," fur babies. It wouldn't matter if I lived in a mansion or in a one-room flat, these sloppy kissing, tail wagging guys would be by my side, (dog hair, dirty paws and all)! Plain and simple, I love pretty things. Just because I treat my dogs like royalty doesn't mean that I have to skimp on my decorating style. In fact, when it comes to home décor, I totally pamper and spoil myself. I just have to be a bit more selective and make pet friendly choices.
It's an age-old pet owner's dilemma. "How do you create a stylish home without letting your home go to the dogs (so to speak)?" Decorating pet-friendly interiors is easier than you may think. It all starts with looking at your home with a pet's perspective. Use your pet camera (as this article from iPet explains), and capture the moment in its current condition, so that you can compare it to the "aftyer". It's choosing the right materials and learning how to incorporate your style in a way that will hold up to the wear and tear of your furry friends, all while creating a beautiful space you can enjoy.
Here are my top 7 things to keep in mind when decorating for pet-friendly interiors:
Match your furnishings to the color of pet. Begin by using your furry friend as design inspiration. Choose a light color that matches the fur of your yellow Lab. Or, upholsterer a chair in a fabric that will camouflage the color of your cats hair. It won't matter as much if the cat suns on the back of the chair or under the window if the hair left behind cant be detected. Blending the colors of both pet and furnishings will also save you from constantly chasing down fur tumbleweeds. Using small-scale patterns can help camouflage fur and stains, whereas wide patterns (thick stripes or chevrons) can magnify spots. This especially rings true in high-contrast patterns such as a black and white stripe.
Don't buy expensive rugs and forgo the wall-to-wall carpet. Unlike carpet, rugs can be picked up and cleaned or replaced more easily than carpet. Wall-to-wall carpet is harder to clean and can trap in odors, stains and pet hair. If you must have carpet, choose a low pile, and make sure you have a top notch vacuum cleaner to clear up any mess. If you need a guide to find the best vacuum cleaner for your home, you can find it here. Avoid continuous-loop carpet because it can easily snag and unravel when a claw catches a single loop. Sturdy carpet squares that are modular and fit together are a great substitute. If your pet stains one section, the tiles are easy to replace.
Bare floors are best. Bare doesn't have to be boring! Concrete and ceramic tile floors are the perfect combinations in a pet-friendly home. They can be colorful and designed to match your style and are durable for large breed dogs. Hardwood floors are simple to keep clean and add a warm glow to any room. Out of all the choices in hard surface flooring, ceramic tile is my favorite. Tile is scratch resistant and is a great surface for pets to nap on hot days.
Keep tchotchkes at a minimum. Wagging tails and adventurous cats are a disaster waiting to happen when it comes to fragile accessories. Either keep your treasured accessories way above the safe pet zone or spend your money accessorizing with beautiful prints and wall art. If you must display fragile things, display them on triangular corner shelves or curio cabinets behind glass where you can enjoy them, but pets can't reach them.
Create a pet zone. When designing your home to be pet-friendly, it's essential to designate an area for pets to come in and go out quickly. Establish a place you can wipe muddy paws and dry off wet fur before venturing into the main house. To avoid accidents, a safe zone is an excellent spot for pets to stay when you're not at home. Painted walls in eggshell or satin finish are much easier to clean and maintain. Whether it is a laundry room or a mudroom, an established pet zone gives you a place to brush, de-shed, clip nails, or clean off dirty paws without soiling carpet and furniture.
Pet-friendly fabrics – Forget the velvet, silk, and chintz and discover leather, pleather or ultrasuede. All of these fabrics are easy to clean and are durable enough for any house pet. Ultrasuede is inexpensive and stays cool and comfortable for your pets, no matter what the climate. Avoid delicate, loosely woven fabrics like chenille and tweed, which can be chewed, clawed, and snagged easily. Materials like microsuede and tightly woven fabrics such as denim are the most durable.
Fill your home with washable fabrics. What dog or cat doesn't want to curl up on your comfy bed or sofa? Add washable duvet covers or coverlets that are durable and can withstand repeated washings. Inexpensive, machine-washable slipcovers save the expense of replacing furniture once it gets dirty or stained. I often recommend creating a rectangular slipcover by purchasing a few extra yards of sofa fabric. Hem the fabric on all four sides, and then place it over the seat cushions and back cushions. This cover can be easily removed and dry-cleaned when needed. Pet-friendly fabric on couches and chairs also helps to avoid continually shooing pets off of the furniture and gives you peace of mind while you're away from home.
If you need some help designing your Atlanta, GA home to be more pet-friendly, I'd love to help. I have first-hand experience in creating spaces that are both stylish and comfortable for you and your four-legged friends.
As a final note: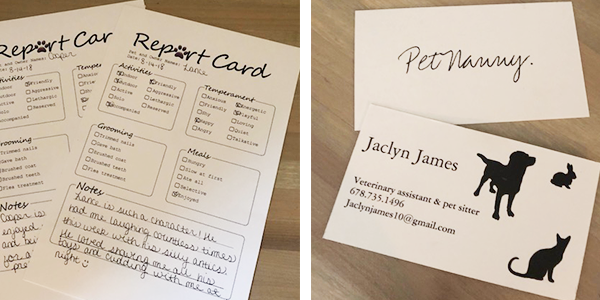 For my readers in the Atlanta, GA area, I highly recommend the "Pet Nanny" as your go-to pet sitter. Last month, I hired Jaclyn James owner of the "Pet Nanny" to care for my guys while I was on summer vacation. When I returned, it was apparent that Lance and Cooper were VERY happy and had been well taken care of! Jaclyn was simply wonderful! She took the dogs for nature walks daily and texted me often to check in. In addition, she left me the most adorable report cards (see above)! Nothing made my vacation more relaxing than knowing that both of my boys were safe and loved!!!
Jaclyn James aka The Pet Nanny gets 5 STARS!!!! Thanks again Jaclyn! J Xo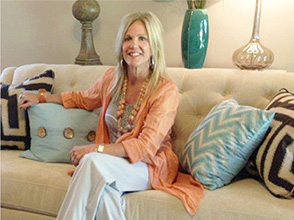 Melanie Serra, Interior Decorator, Certified Color, Redesign and Staging Instructor
Award-winning decorator and stylist Melanie Serra has been reviving interiors for over 17 years and has worked with clients in Dallas, Philadelphia, and Atlanta. Melanie Serra's approach to interior design is fresh and innovative transforming residential and commercial interiors from Now to WOW!
Melanie Serra Interiors - 770-714-3430