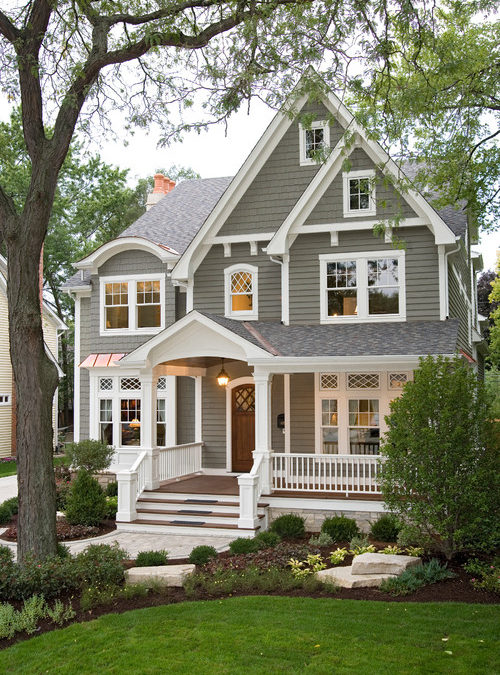 Pick-a-Paint Tips – How to pick a house paint color.
Each home has a unique calling card of its own, whether it's a classic Bungalow or a charming Tudor. It's just a matter of time before a house needs a fresh coat of paint to recapture its classic characteristic charm. The perfect exterior color palette goes a long way in providing curb appeal and creating a neighborhood showpiece.
How to pick a house paint color?
When you factor in the thousands of color choices and their values it can be a daunting task. On top of that, one must understand undertones and how color reacts to light, texture and weather conditions.
Selecting the wrong exterior paint colors can affect the entire neighborhood. So it's important to get it right the first time to avoid costly mistakes and humiliation. The tips below can provide color confidence in selecting the perfect exterior color scheme.
Pick Just Three
When narrowing down your exterior color choices, keep it to just three.

Field Color – Large areas such as siding (hardie plank). The field color will be the base for choosing your trim and accent colors.

Trim Color – Corner boards, window trim, fascia, etc. Trim color can make or break your color scheme. Keeping trim lighter than the field color is always a safe bet. Pay attention to trends such as with the new farmhouse style where it is common to paint gutters, downspouts, and windows in dark brown or black. This is a great look, however, trends come and go. So, if you are planning to sell in a few years its best to select white or neutral.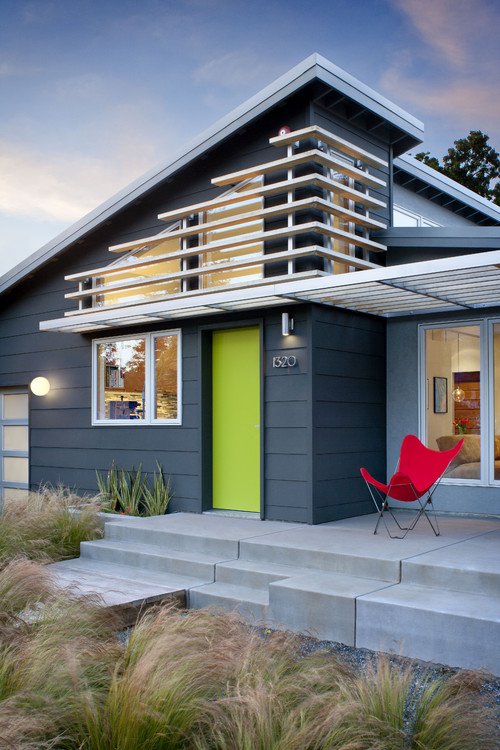 Accent Color – Doors, shutters, and other architectural features. The accent color is where you can incorporate a bit of personality. An eye-catching accent color can give an otherwise muted color scheme pizzaz.
Use Fixed Elements as a Guide
This is the jumping off place to start your color palate. Use a fixed element such as the brick, mortar, cedar shakes, stone, pavers, roof shingles, wood columns etc. to establish the color scheme. There is usually more than one color (undertone) in natural materials. Once you decide on the hue, be sure to hold the paint chip next to the material to get an accurate match.

Factor in the surrounding area.
Something people often forget to do is factor in the colors around their house. Maybe you have a cherry blossom tree in your front yard that you could match your house? Or do you have a colorful path leading up to your house? The biggest thing to consider is your garage because if the house doesn't match the garage then it can make the whole house look off. If you have an oak garage (and if you don't I recomend looking at oak framed garages prices because they can make your house look stunning) then it's best to go for darker greens or shades with gray undertones. There are a lot of things to consider.
Go for the Classics
When it comes to choosing a timeless color combination, nothing works better than the classic white or ivory with a black accent.
Vary Color Hues
The value of a color is the lightness or darkness of the same hue. Often people will call this a shade, but that is incorrect color terminology. Shade is a color with black undertones. Some of the prettiest color combinations are those that play with different values of the same color.
Make a Statement with Color
Color is your friend! Don't be afraid to be brave and daring. This homeowner went bold and classic!
Highlight the Architecture
If your home's most prominent feature is its architectural form, then use paint colors to highlight its uniqueness.
A final note….
Just as important as picking a color palette that works in your neighborhood and the surrounding landscape, testing your color choice is vital. Painting your home is a big undertaking and is not as simple as re-painting an interior room. It can be a costly mistake.
Never rely on paint chips alone when choosing a paint color for your home.
Find an inconspicuous area of your home where you can paint test swatches. Paint a large area and watch how the light changes its hue at different times of the day and in different weather conditions.
If picking an exterior paint color seems too overwhelming give your Atlanta, GA Color Consultant, a call and let's tackle it together. During a color consultation, I create a cohesive color palette that will compliment your homes best exterior features while keeping in line with its individual character.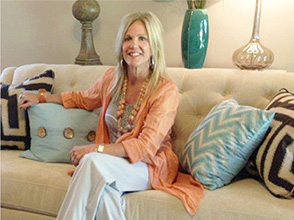 Melanie Serra, Interior Decorator, Certified Color, Redesign and Staging Instructor
Award-winning decorator and stylist Melanie Serra has been reviving interiors for over 17 years and has worked with clients in Dallas, Philadelphia, and Atlanta. Melanie Serra's approach to interior design is fresh and innovative transforming residential and commercial interiors from Now to WOW!
Melanie Serra Interiors - 770-714-3430