Home staging your Atlanta, GA home.
The last time you went window shopping did you expect to see empty store windows, cluttered displays and haphazardly put together sales tables? Of course not. You were wooed into the store with beautifully choreographed widow displays and strategically placed sale items.
Selling a home in today's market is much like window shopping. We've been conditioned by shows like Flip or Flop and Fixer Upper to expect to see picture perfect homes that spark our senses to notice every little detail.
A well-staged home is not optional anymore; it's expected. 
In a recent study by the Real State Staging Association, they discovered that 90% of homes that were staged before listing spent less time on the market than unstaged homes.
Just like retailers know that a window display must catch the eye of a passersby, savvy real estate agents know that a home needs to be professionally staged and marketed to attract buyers.
A merchant will entice a buyer to visit a store with sale flyers and promotions. A savvy realtor will entice a potential buyer to visit a home with online listings.  This is all achieved by creating photos of beautifully staged rooms. The goal is to create the best first impression before a potential buyer steps foot into a home.
It all starts with a Home Staging Walk & Talk Consultation.
Often, most clients don't know where to begin. They feel overwhelmed and aren't thrilled with the amount of work and sweat equity; it will take to get their home show ready. So the Walk & Talk Consultation is a great place to start. This initial consultation will determine how much or how little work will need to be done before listing. When the consultation is over, they have a manageable to-do list that helps prioritize the process for them.
It's true, selling a home can be daunting. However, enlisting the help of a professionally trained home stager will provide the assurance and know-how in marketing the home. This is accomplished by highlighting the homes best features and establishing its best selling points.
I often explain staging like this.
A well prepared and staged home will sell quicker and for top dollar.  Staging entices a buyer through beautifully decorated rooms that show well in online listings,  social media, and open houses.
But more importantly, it provides a buyer with a move-in ready home.
In the real estate market, buyers are busy and don't want to purchase a home that has a never-ending list of home improvement projects.  They want homes just like they have been conditioned to see on television and online.  They want a home that is move in ready.
Is a home sale in your future?
If so, let's start by outlining what it's going to take to make your home show ready. Start with a Home Staging Walk & Talk Consultation today.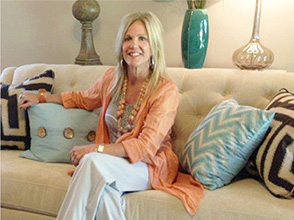 Melanie Serra, Interior Decorator, Certified Color, Redesign and Staging Instructor
Award-winning decorator and stylist Melanie Serra has been reviving interiors for over 17 years and has worked with clients in Dallas, Philadelphia, and Atlanta. Melanie Serra's approach to interior design is fresh and innovative transforming residential and commercial interiors from Now to WOW!
Melanie Serra Interiors - 770-714-3430