Let's face it, picking a kitchen cabinet color can be quite daunting.
Most of the time when making cabinet color selections, clients go the safe route with white or neutral. But neutral can be a bit boring! What if there was a way to incorporate color into your kitchen cabinets to create that wow factor? I'm here to tell you how!  Go two-tone! Yep, that's right! It adds a dimension and lets you explore a little bit of color, without overdoing things. One of the hottest trends today in kitchen design is the "tuxedo look." This design concept offers a timeless style, and universal appeal while adding elegance and simplicity to the most used room in your home. Indulge yourself with color, and I bet you won't bore of it quickly. By choosing two-tone, you'll add a dimension that allows you to get a little braver with color without overdoing it.
Tuxedo cabinets are versatile too.
Although you might not think it at first, tuxedo cabinets are incredibly versatile.  This latest trend will transition well with any cabinet door style and looks great in both traditional and contemporary kitchens. A classic tuxedo kitchen is typically defined by white upper cabinets and often incorporates a black island. However, the color choices and the degree of contrast you choose is completely up to you. Tuxedo cabinets are more about creating exactly the look you envision, so they don't have to be just black and white. Tuxedo cabinets can be any combination of light and dark or two-toned.
A two-toned look is both chic and timeless.
A tuxedo kitchen ups the room's sophistication without requiring a great deal of time and effort to transform the space. For small kitchens, the look can also brighten and open up the room. Tuxedo kitchens break up the monotony of all one color cabinets. These days the open concept kitchen is more about visual appeal and creating a living space than about being solely utilitarian.
I'm here to tell you it's simpler than you think. All you have to remember is go two-tone.
Here are some of my favorite tips in making this design style work for you:
Keep in Simple
The most classic way to incorporate this style is to go with the basic black and white. This is defined by the traditional black bottom cabinets paired with its white upper cabinets. This color combination is both chic and timeless. If your kitchen is small, this look can open up the room and make it feel bigger.
Add pops of color
Keep it fun by adding pops of color that keep the eye moving throughout the room.
 
Harmonize the Colors
Add character to a tuxedo kitchen by using two contrasting colors.  In this photo, the gray subway tiles were added to the entire wall, not just the backsplash, which helps tie the dark and light colors together.
Glimmer and Shine
Light-reflecting metallics make the perfect statement in eye-catching areas throughout a tuxedo kitchen. Over a breakfast bar, on the walls, and in accessories add just enough glimmer to add a touch of class to the room.
Go for a Cohesive Look
Matching hardware, tapware, and light fixtures throughout the room will give it a unified look.
Highlight Natural Elements
Floor to ceiling cabinets make the perfect backdrop for mixing in natural elements. Wood is the ideal material to soften the contrasting colors in a tuxedo kitchen.
Make Lighting the Focus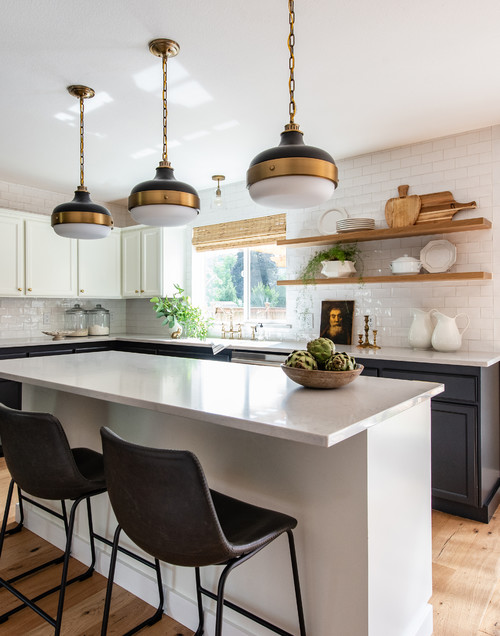 In this stunning design, the kitchen begs for luxurious lighting to heighten the drama of the room. Add spectacular lighting that will illuminate the space after dark and highlight its architectural details.
You don't need to stick to the sleek and modern look of the classic tuxedo design.
As long as you are contrasting colors, you can create a sophisticated room that will be the highlight of your home.
Is your kitchen looking tired?
Are you bored with your current look? Want to transition into a sleek style without spending a fortune? ? Go Tuxedo! Its just paint! It the cheapest decorating tool and can transform your Kitchen from now to WOW!!!!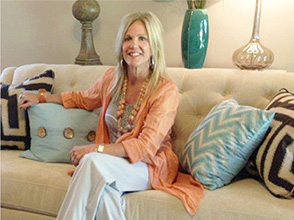 Melanie Serra, Interior Decorator, Certified Color, Redesign and Staging Instructor
Award-winning decorator and stylist Melanie Serra has been reviving interiors for over 17 years and has worked with clients in Dallas, Philadelphia, and Atlanta. Melanie Serra's approach to interior design is fresh and innovative transforming residential and commercial interiors from Now to WOW!
Melanie Serra Interiors - 770-714-3430