Atlanta Interior Designers tell it all …
I heard someone once describe an Atlanta Interior Designer as someone who always knows what jewelry goes perfectly with any outfit. I love that, and it describes how I look at a room. Just like I match jewelry with my outfits, I match your home with furniture and accessories.
You may imagine me showing up at your home toting fabric swatches and paint decks, and while that may be true, I do carry those in my bag, I would rather you see me as your personal home style assistant.

My job is to open your home's closet and put together the perfect outfit.
Have you been dreaming of hiring an interior designer or wondering if hiring one would be a good fit for you?
Let me explain a few things that every interior designer wants you to know.
What do interior designers do?
By walking into your home, a designer should get a feel for your style and taste immediately. Most designers and decorators have design degrees and/or certificates to know how to dress your home properly.
From one room to the whole house
Our job is to know how to work within your budget. Homeowners shouldn't be afraid to ask for help from a professional designer. In most cases, a few small changes can make a huge impact on the look and feel of your home.
Each designer embraces your style
There is no such thing as cookie-cutter designers.  We are here to listen to your ideas, give you professional advice, and offer an array of design options to fit any design style. Most designers don't work with preconceptions or on a design agenda. Our job is to take your vision to its full potential, all while holding your hand every step of the way.
It's more than aesthetics
Wall colors and window treatments are important, but those cosmetic things are just the tip of what an interior designer does.  We go out of our way to make sure your space feels harmonious throughout. From the floor plan to the last placed accessory, each element in the room is chosen with purpose and style in mind.
A designer outfits a home in a way that is both flattering and functional. They balance the aesthetics with the architectural features to reflect their client's lifestyle and desired mood for the home.
An Atlanta Interior Designer will have a clear vision for your home. They will breathe life into it while paying attention to the tiniest details that will transform your space into a polished and pulled together look.
To conclude, an interior designer has the experience to professionally dress your home with furniture, fabrics, and accessories  – the 'jewelry' of your home.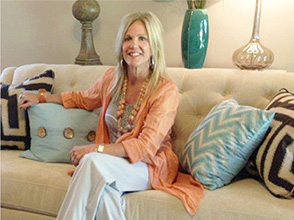 Melanie Serra, Interior Decorator, Certified Color, Redesign and Staging Instructor
Award-winning decorator and stylist Melanie Serra has been reviving interiors for over 17 years and has worked with clients in Dallas, Philadelphia, and Atlanta. Melanie Serra's approach to interior design is fresh and innovative transforming residential and commercial interiors from Now to WOW!
Melanie Serra Interiors - 770-714-3430